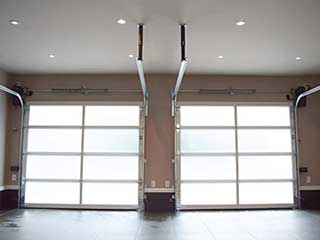 Good maintenance and care will make your garage door springs last longer. No matter how well you take care of them though, your springs will break eventually. When that happens, you should be careful in how you proceed. Garage door springs might not look like much, but they store a lot of kinetic energy. Handling them can be very dangerous if you don't know what you're doing. Spring replacement is a job for trained professionals. Your local Fayetteville technicians are just a phone call away and can be at your house within minutes.
Why Springs Break
Each model of garage door spring has an estimated lifespan from the manufacturer, measured in cycles. One "cycle" is a complete opening and closing of a garage door within the spring's recommended weight range. Most springs are rated for a few tens of thousands of cycles, but some for more or less than that. In any case, the more frequently you use your garage door, the sooner you'll need new springs. If you want to avoid the inconvenience of a broken spring, you can keep track of your usage and have them replaced before they break.
Fayetteville Garage Door Spring Replacement Services
There's a reason you need professional training to do this job! Broken or otherwise, garage door springs are constantly under high pressure. When you try to remove them from the system, that pressure can release itself in unexpected ways. This is especially true if the springs are broken, and some pieces may be ready to fly out! Serious injuries and even deaths occur every year because of improper garage door spring handling. Our technicians know what they're doing, and they've been doing it for over a decade. We drive out for service appointments seven days a week, including on holidays.
Broken Spring Repairs Whenever You Need Them
The experts from Garage Door Repair Fayetteville offer cheap maintenance and spring replacement services anywhere in city limits, any time you call. With our same day emergency repair services, you won't have to go without a working garage door for more than a few hours tops. Need help ASAP? Call now to have broken springs replaced on short notice!