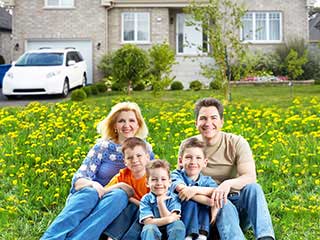 Automatic garage doors are a fantastic addition to any home. They provide superior security to other entrance systems as well as convenience with regards to coming and going. However, these magnificent appliances do require a little work from time to time, the kind of work that if left ignored, can wind you up with a collection of expenses which you could have avoided in the first place. To save money on costly garage door repairs, it is best to ensure that you properly maintain them on a regular basis. If you are interested in finding out how you can save on costs to your system at home, here are some time and money saving tips.
How a Garage Door can cost you money
Each and every part in your system is subject to eventual decay or damage. This can come from a variety of dangers, including bad weather, extreme pressure, overuse and a negligent attitude towards maintenance. Whatever the cause, it is utterly essential to stay on top of the condition of these components, less they should fail, resulting in the need for expensive repairs to be conducted by a professional garage door company.
How can you avoid the extra cost of repairs?
The best way to avoid the need to doll out precious cash on repairs is of course to stay on top of maintenance. The goal of regular maintenance is to discover any issues with your system and to rectify them before they become a problem that affects the functionality of your doors or opener. There are a great number of garage door parts that you should keep a close eye on, including the following:
The springs are essential for keeping your system in balance, as well as safe to use. Each system should have two springs installed at any given time for them to do their difficult job properly. Should one fail, or start to show signs of stress or damage, you should opt for spring replacement immediately, to be conducted by a pro.
The opener is the heart of your system, stalwartly working to do your bidding at the touch of a button, lifting your heavy doors at a seemingly effortless rate. Yet the moving parts and finicky components within make them vulnerable to decay and damage over time, and so if yours is performing slower than usual or is making too much of a noise, you should look to conduct maintenance on it as soon as possible before it breaks down and needs replacement.
Tracks, trolleys, bearings and wheels all play an important role in your system, so to do the trolleys, safety sensors and safety cable. Each part of your system is essential for its correct functioning, so be sure to do regular maintenance to keep them running as they should.
Staying on top of these maintenance tasks may seem like somewhat of a chore, but the pale in comparison to the efforts required (and not to mention the expenses) of conducting repairs. So avoid any unnecessary troubles and keep your door in check.