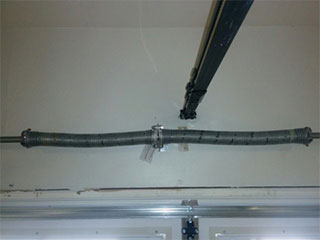 Call us for Broken Spring Replacement
If you need to have your garage door spring replaced, the best bet is to call a professional. These parts can be very dangerous if you are inexperienced, as they store tension meant to support the weight of the entire system. The door itself can also be dangerous because of its weight and bulk. When broken spring replacement or repair is called for, count on our local professionals who are trained and knowledgeable about what type of springs you have and how to replace them for you in the safest manner possible.
We Service All Types of Springs
The average springs are typically one of two types: torsion or extension springs. Heavier double doors, insulated doors, and industrial applications almost always have a torsion spring systems. Lighter doors can have extension springs instead, but different brands and models of garage doors will have different spring designs.
Can Springs Be Repaired?
That's an important question we get asked a lot. Spring-replacement is never cheap, yet sadly if the spring broke, there is no way to fix it. However, if it is simply a matter of tension, the springs can be adjusted. You can tell the springs need to be adjusted if the door opens too fast, too slow, or sags a little. Our experts will let you know what the problem is, and fix the problem for you on the spot.
Garage Door Repair Fayetteville - The Professionals to Call
Whether you have torsion or extension spring set, our experts have got you 100% covered! We carry only high-quality replacements and have the experience to ensure every replacement, repair or installation work goes smoothly, and safely.
In addition, count on us for:
Roll up Garage Door Maintenance
Liftmaster Garage Door Openers
Oil Tempered Torsion Springs