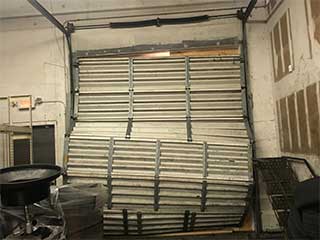 Any problem that keeps you from using the door in your garage regularly deserves a fast solution. Sometimes you're busy and in a hurry and the spring breaks or the opener stops working. When those types of situations strike, it's helpful to have nearby garage door repair technicians in your area who can help. Well – here we are! The Garage Door Repair Fayetteville team stands ready to provide quick assistance to any malfunction. When you need repairs applied fast, get help from the best local service specialists!
Help With Broken Spring Replacement
Without a doubt, one of the most common service calls we get is for broken garage door springs. It's not surprising. With the constant wear and tear and the weight the springs have to support day in and day out, it's only a matter of time until they break. With good quality garage door springs installed, you can expect a lifespan of several good years. Especially with regular maintenance. But even with proper upkeep, broken garage door spring replacement will become necessary after enough time passes. The springs carry a lot of tension, and therefore replacing them on your own is dangerous. Let the nearest garage door spring repair specialists in Fayetteville handle the situation for you. Don't mess with broken springs and keep yourself safe and free from accidental harm.
Quick Repairs For Fayetteville Garage Door Openers
It's not unlikely that at some point you might require opener troubleshooting done. Why? Because garage door openers have moving mechanical parts working under significant weight as well as electrical wires and electronic logic boards. This combination of different parts and components working in tandem can see some malfunctions every now and then. When the garage door opener isn't working for some reason, quick troubleshooting from nearby Fayetteville technicians will help get things back to normal. Opener repairs can involve replacing mechanical parts, rewiring stuff, or even switching out the logic board or reprogramming the opener remote. Whatever the trouble, our local garage door opener repairmen can undertake the necessary action to bring the system back to working condition.
Call For Same Day Garage Door Repairs!
When you've got trouble preventing you from using the garage door like you want to, a quick solution is a phone call away from you. Garage Door Repair Fayetteville can help all nearby residences with emergency repairs for tracks, panels, broken springs, and all other parts. With our specialty in opener troubleshooting and garage door part replacement, you always have a fix available regardless of the day. Need help? Get in touch with our local professionals today!